FOR Kota Kinabalu-based Borneo Estate Development Sdn Bhd's chief operating officer, Ben Kong Chung Vui, property development means building something that is relevant to the present and the future.
At the moment, he is doing that with the RM4.2 billion mixed-use development called Desa Impian in KK, which is slated for launch no later than 3Q2016.
To be developed over 10 years, the 72-acre project will comprise 7,800 apartments housed in 15 blocks and have an integrated commercial component.
Modelled after Singapore's HDB (Housing and Development Board) flats and with its initial concept planned by Singapore's CPG Group, Desa Impian aims to be the first of its kind in Sabah.
"It will be like Tampines or Ang Mo Kio in Singapore or KL Sentral. You live, work and do everything there. Besides, the project is located in the city centre," Kong tells City & Country.
The apartments will have built-ups of 700 to 1,055 sq ft and be priced from RM295,000 to RM450,000.
"It's not really an affordable housing scheme but it is affordable compared with current prices in the city. So, I would call it an urban scheme for city dwellers."
Desa Impian is located within a 20-minute driving radius of both the state and federal administrative centres, institutes of higher learning (for example, UMS, UiTM and Kota Kinabalu Politeknik), the Kota Kinabalu Industrial Park, Kolombong and Inanam.
Kong is also overseeing Borneo Estate Development's ongoing condominium project, Maya@Likas. Developed by affiliated company Tower Paradise Sdn Bhd, at which Kong is the project director, the condominium is located off Jalan Tuaran in Likas, KK.
Launched in Feb 18, Maya@Likas comprises three residential towers with a total of 483 units, whose built-ups range from 910 to 1,562 sq ft and which are  priced from RM476,710 to RM830,800. The project's gross development value (GDV) is RM295 million and to date, 60% of its units have been sold.
The recently completed integrated commercial development, Riverson
"We used our knowledge of construction methodology and looked into cost efficiency to bring down the cost as much as possible. [As a result], the units are going for 10% to 15% below market price or RM100 psf to RM150 psf lower than units in the neighbouring developments in the city centre," Kong says.
Maya@Likas is designed like "a folded dragon reaching for the stars" and utilises "built-in connectors" between the blocks for leisure and recreational activities.
Facilities at the gated development include a gym, swimming pool, children's playground, function rooms, bicycle parking, private lockers at car park and a continuous jogging track that connects the three blocks.
Additionally, Maya@Likas features a playhouse, treehouse and lighthouse. The playhouse consists of three modern teepee shelters by the pool while the treehouse is made of gapped wooden slat walls to serve as a quiet retreat for the residents. The lighthouse — the heart of the development — is an elevated area between two residential towers with floor-to-ceiling windows and a deck, which boasts views of the city skyline.
Kong says the development is designed to ensure privacy and a sense of community as he believes resident interaction will improve security and maintenance.
Piling works have already begun on the site of Maya@Likas and the project is slated for completion in mid-2019.
Risk-taker
Kong, who has an architectural background, founded the company in 2008 but only became actively involved in it in 2013.
Prior to starting his own company, Kong was project manager for Sutera Harbour Resort and Graceville Condominium in KK for four years before joining his father Datuk Kong Kwok Wah in Wah Mie Group for another 10 years.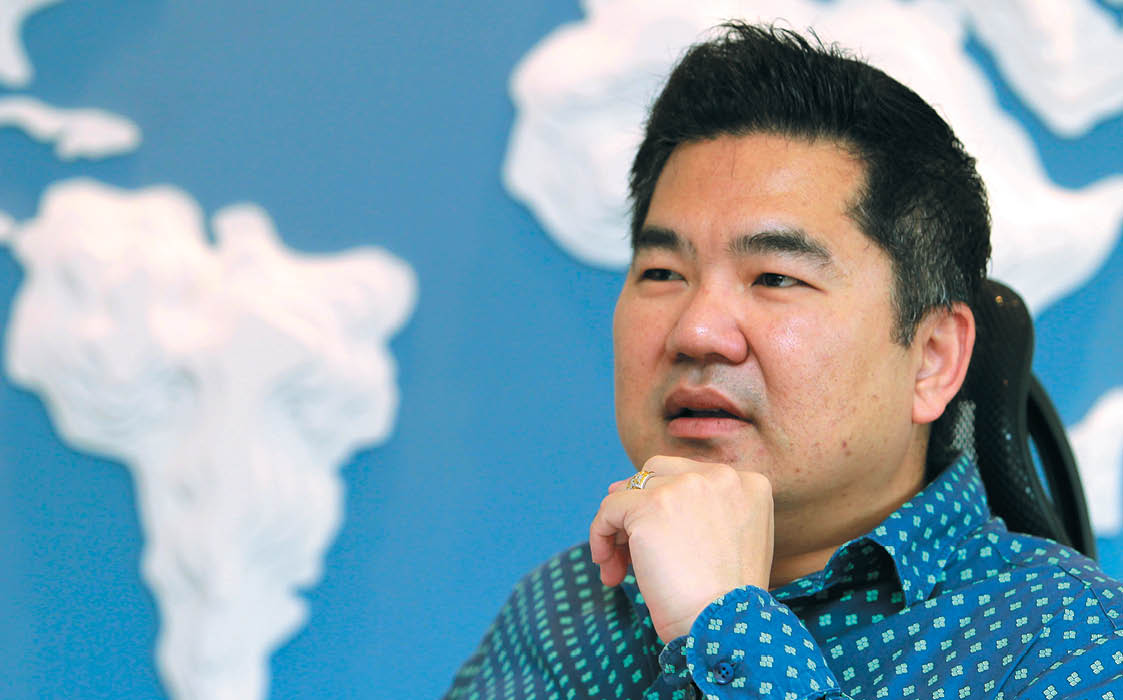 Other projects he was involved in as executive director before setting up Borneo Estate Development are Puteri Damai Condominium, Alam Damai Condominium, Taman Bukit Sepanggar, Taman Warisan Industries and Warisan Apartments, all in KK.
Kong Sr is the founder of Wah Mie, one of the largest property developers in Sandakan.
However, Kong decided to strike out on his own.
"My father wanted me to help rebrand Wah Mie Group in terms of positioning and product design in order to take it to the next level. But Wah Mie's direction was slightly different from mine; I no longer wanted to do just housing projects all the time. It took me a while to convince my father that leaving Wah Mie and exploring on my own was the right move as what I wanted to do was riskier, more complex and less profit-oriented," he says.
"In the end, we agreed that to move forward, it is very important to think of the future and the next generation, to try new things and push ahead; otherwise, we will lose many new talents."
Kong Sr left Wah Mie in January 2013 and teamed up with his son. He is now the CEO of Borneo Estate Development.
Recently, Borneo Estate Development completed its maiden project — the RM613 million Riverson — with affiliated company Riverson Corp Sdn Bhd.
Located along the coastal highway of Kota Kinabalu in the central business district and just a 10-minute drive from the Kota Kinabalu International Airport, the five-acre, integrated commercial development has a total built-up of RM1.1 million sq ft. It has a private medical centre, SoHos, office suites and a boutique mall.
According to Kong, Riverson is a "four-pillar" development that aims to be self-sustaining for its residents. Additionally, along with neighbouring developments — such as KK Times Square with the Imago mall, the Sutera Harbour Golf and Country Club,  the upcoming transport interchange station, Wawasan Plaza, Harbour City and the new Ming Garden Hotel — it will form the KK southern city hub.
"The idea is to have a crowd in the development at all times. For instance, the hospital runs 24/7, the mall is open from 11am to 9pm, the offices are utilised during working hours, and after that, the SoHos come alive," remarks Kong.
The medical centre houses Gleneagles Kota Kinabalu, which officially started operations in May last year. It has up to 250 beds, six operating theatres, a large operating complex, a 24-hour accident and emergency department, a trauma and intensive-care centre, and a café and eatery.
According to Kong, the reason for a private medical centre at Riverson is in response to a lack of compatible medical facilities in KK and Sabah, and to cater for the growing healthcare needs of Sabahans.
"Many people in KK, including myself, go to KL and Singapore for check-ups and all, but there are many locals who cannot afford to do the same. Also, as a major tourist destination, Sabah attracts many expatriates and foreigners. So, for the state to become an international destination, we must have good facilities that are on a par with international standards to prepare for the eventual influx of people. Riverson aims to propel the next wave of growth in KK," he says.
Complementing the other components of Riverson is a themed boutique mall called The Walk, which Kong likens to Terminal 21 in Thailand.
The Walk, which will open its doors in May, offers 247 retail outlets with built-ups of 197 to 940 sq ft and priced from RM357,200 to RM2.19 million. Riverson Corp owns 70% of the mall while the rest has been sold and is being renovated by the tenants. Apart from shopping, The Walk offers dining, health and beauty, and entertainment and leisure options, and services.
"Size-wise, we are like Publika in KL, Empire Shopping Gallery in Subang and Somerset 313 in Singapore. The Walk is not grand but it is a comfortable mall that is easy to navigate. The themed effect is also to encourage randomness, and we are targeting the Gen X, Gen Y and Gen Z as we believe that at least half of them are likely to do their shopping online," Kong says, adding that the mall will carry niche and independent brands rather than those one can find in bigger malls.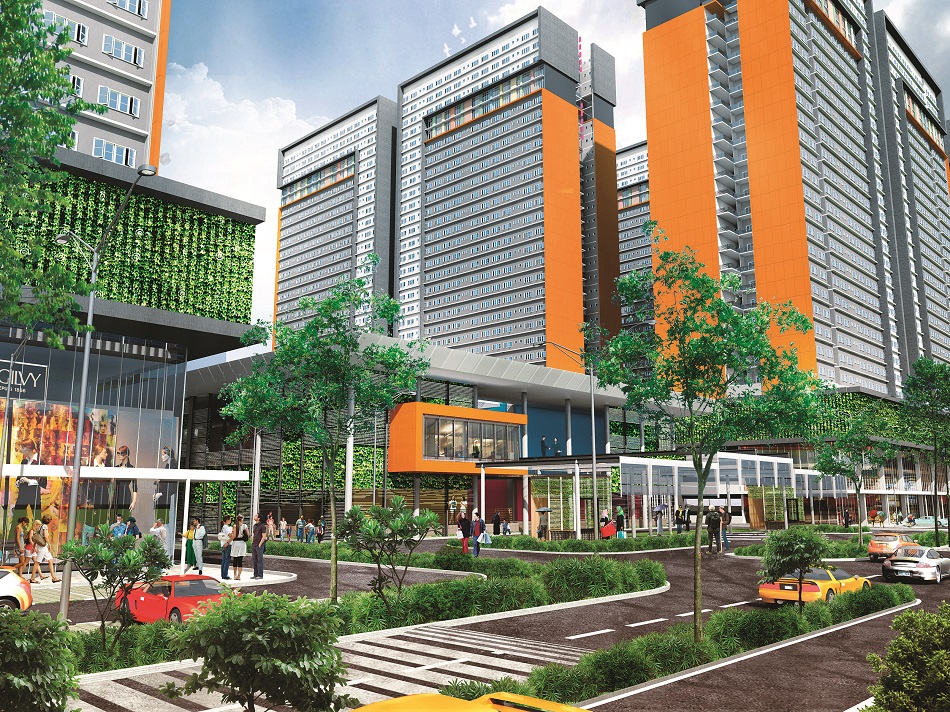 An artist's impression of the 72 arce Desa Implan, which will be developed over 10 years
He believes that the demographics of shopping have changed and that we no longer need a big shop to demonstrate the whole range of products, but just enough space to let people have a feel of the products.
"So, a shop of about 400 to 600 sq ft is good enough for a lot of products and it could also be cheaper to buy online," he says, adding that professionals with limited lunch hours may prefer spending time in smaller, more manageable spaces instead of large malls that would take longer to walk around.
As for the office suites, Kong says they are the closest to the Grade A offices in the city with the exception of Menara Hap Seng KK. He considers these two buildings as representative of a new era in commercial developments in KK. The office suites, which are fully sold, were transacted at between RM600 psf and RM650 psf two years ago.
Featuring a modern architectural design, the offices come in sizes ranging from a minimum 2,500 sq ft to an entire floor of about 20,000 sq ft. There is also an exclusive private drop-off lobby and 24-hour security surveillance. Some of the confirmed tenants are
Toyota Capital and M. Kiandee Architect.
The 138 SoHos at Riverson — which are 559 to 1,755 sq ft in size and come with one or two rooms — are sold out and being handed over to the owners. The units come fully furnished and were sold for RM486,330 to RM1.38 million.
In addition, there are 29 studios that are being managed like serviced apartments by Ricklagan Hospitality Sdn Bhd.  These can be rented, especially by those from out of town visiting patients at the hospital.
Other SoHo owners can also opt for their units to be managed.
According to Kong, the SoHos are unique because 46 units on the top four levels are duplexes. Most of their buyers are from Sandakan, Brunei and Tawau.
"Apart from being the last piece of property one can own in that location, the development also offers attractive island views of the golf course and sea," he says.
"When Riverson was conceived five years ago, its formula was alien to Sabah but we were pushing the envelope. It is usually easier for developers to do what is comfortable or popular at the time.
"And as we are in an era where the world is changing so fast, we realised we had to look forward and ensure that by the time a project is completed, which usually takes several years, it is still relevant and will remain relevant for a long time. I think this development is a milestone for KK and we are quite proud of our achievements so far," Kong comments.
Moving forward, he believes doing something out of the ordinary may be challenging but key to staying ahead in the market.
"We will continue to build more developments with social-impact objectives in mind. And given the chance, we may eventually set up a foundation to nurture new talents in education.
"We will focus on this field because we believe that is the future we need. We are also looking at creating projects that can bring back local talent. We hope that at the end of our journey, we have truly contributed something that we believe in," he says.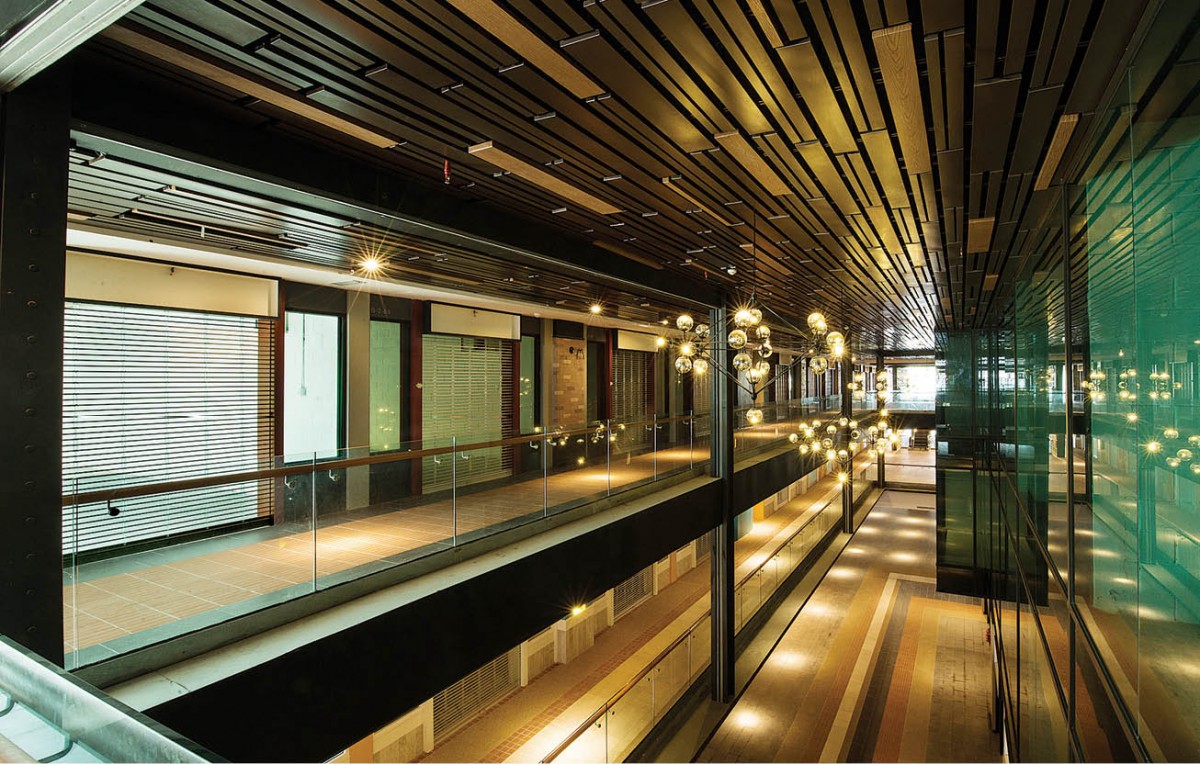 The interior of the Riverson mall
Credits:  TheEdgeProperty.com.my